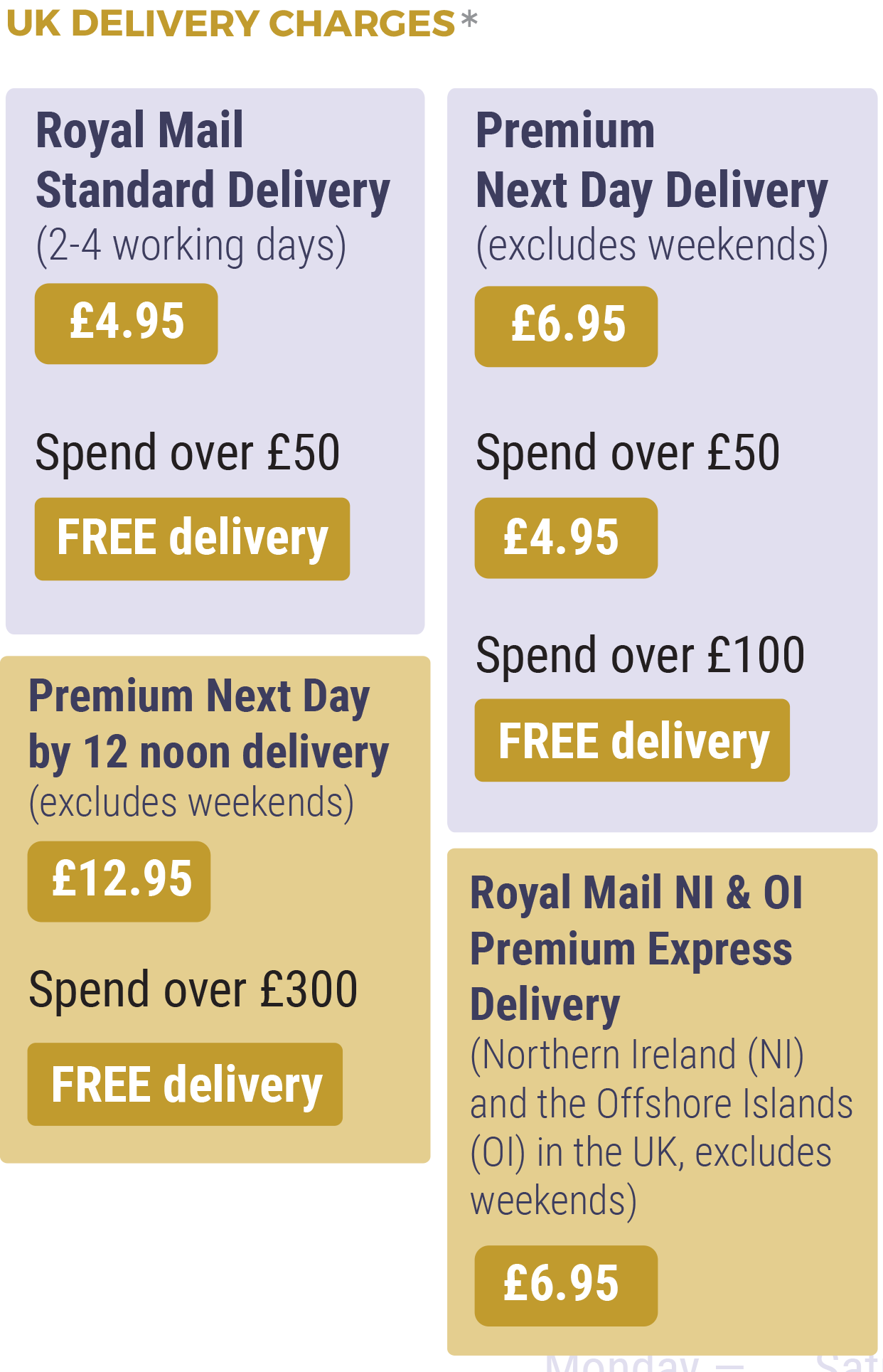 The above charges are for the standard UK mainland destinations. For non-standard UK destinations (such as Channel Islands, highlands, etc) and all other countries, please click here.
Orders are despatched during working days only (Monday to Friday, excluding bank holidays).
If you place an order Monday to Friday by 12:00pm we will aim to despatch it the same day.
Orders received Monday to Friday after midday will usually be shipped the following working day, for delivery the next working day after the despatch.
For example, if you place an order after 12:00pm on Friday, we will despatch your order on the next working day which will be Monday (unless it is a bank holiday) with a delivery estimate of Tuesday.
If you place an order during a weekend or a bank holiday, we will ship your order on the next working day.
Next day delivery excludes weekend delivery and will be for the next working day.
The stock response displayed on our website is a live and current stock response and will normally be accurate. Although errors are rare, they can occur. In the unlikely event that we have an error in our stock control system and any items from your order are unavailable or delayed, we will inform you as soon as possible. Please make sure that you include a valid contact number and email address when you submit your order.
If you have any questions regarding delivery, please do not hesitate to contact us on 0151 708 7006 or customerservices@adaptoutdoors.com
Customer Reviews
Brilliant independent outdoor pursuits shop. Very knowledgable staff who offer great advice on walking kit. Nice to talk to someone who actually knows and has a passion for what there actually selling.
I used the online store during lockdown and not only got the best price I could find in the UK or EU but had it delivered free of charge a couple of days later. Great service!
Ian Pilkington
Google Review
Absolutely fantastic customer service, ordered online lost returns label and still able to exchange in store. All staff we dealt with were amazing, from the fella on the door, the guy on the phone to the ladies that dealt with us at the till. Will be returning and recommending!
sarah scregg
Google Review
Really love this local outdoor store, proper knowledge, proper kit, friendly and well worth your time.
Matt Thomas
Google Review
Doing a great job. Very friendly and helpful staff. Felt like one of the family, for a Londoner, pretty good. Take care of my little girl 💕 See you soon. Deffo!
Lovely staff, very friendly and good stock felt very looked after when I bought a shirt from them 10/10
Terry Maughan
Google Review
Staff very helpful really go out their way .nothing is too much for them.
Alison Johnston
Google Review
Looking for camping stuff to take to Malaysia, extremely helpful friendly staff, very knowledgable and not pushing unnecessary products on you . Will be our first stop for any outdoor goods in future.
Gaynor McDowell
Google Review
Great shop and service, i have been going here for years.
Karl Dentith
Google Review
Awesome lil camping shop. Staff are mega helpful and their prices on some stuff are much cheaper than all the other shops in town! Top marks!
Niraj Gohel
Google Review
An Alladins cave of outdoor kit... Good quality.... Good helpful staff... 2 floors....What's not to like?
Outstanding customer service! Will be back. Thanks Lads.
Thomas Niccol
Google Review